How one dog can change a life
I know firsthand how a dog can change your life. During my battle with clinical depression, my own dogs were instrumental in saving me. I have always been keen to learn about how dogs can help their companions in many other ways, too.
Fascinated by the roles dogs can play in our physical and mental wellbeing, I began to research various service dogs. I was surprised to learn that across the UK, fewer than 1% of visually impaired people have a guide dog to support them. As both a pet parent and an ethical breeder, I knew I wanted to help this cause.
Guide Dogs UK are an amazing non-profit organisation who train dogs to provide support for people with sight loss. The charity works towards a world where people with sight loss are never left out of life. A world where being blind or partially-sighted is not what defines them. I am a huge advocate of the work that they do to provide vital support for people, all over the UK, living with visual impairments.
When my golden retriever, Mabel, gave birth to eight beautiful puppies, I wanted to donate one to be a future assistance dog. This is where Guide Dogs came in, and Bertie's journey began.
Click here to visit Bertie's Just Giving page.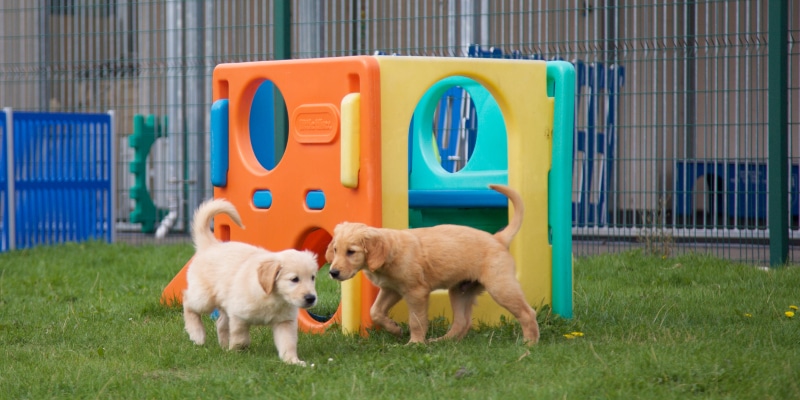 Getting the ball rolling
Guide Dogs have their own specialist breeding programme. This allows them to bring more life-changing Guide Dogs into the world whilst prioritising ethical and responsible breeding. Occasionally, they look to take in puppies from other ethical breeders. This means they can keep their dogs' gene pool diverse. It also ensures they're able to raise and train enough puppies to meet the demand for guide dogs.
When I approached Guide Dogs with my suggestion to donate one of Mabel's puppies, they were thrilled with the idea! Of course, lots of checks had to be done first to ensure the puppies were eligible.
The process included a visit from Guide Dogs, which allowed them to see Mabel and her puppies in their home environment. It's important for future guide dogs to be well socialised and desensitised to everyday sounds and objects. Mabel's puppies had been introduced to lots of different stimuli from a very early age, which is something I've always found important when it comes to my litters.
It was also important for Guide Dogs to learn more about the puppies' genes and family history. Hereditary illnesses could affect their health, and therefore ability to do their job as a guide dog in the future. As a responsible breeder, I always carry out breed-specific health checks as recommended by the Kennel Club. Therefore, Mabel had already passed all of the genetic health tests before she became pregnant. This meant that her puppies would be less susceptible to hereditary illnesses.
Once all of the necessary checks and paperwork had been concluded, it was time to choose the right puppy. This was a tough decision, as they all had such loving temperaments. I followed guidance from Guide Dogs, regarding which of the puppies would be the most suitable; we needed a dog that was a gentle balance of calm and confidence. There was one puppy that continuously showed all the right traits, and the decision was easily made. Guide Dogs agreed; he had the potential to make a fantastic future Guide Dog.
Click here to visit Bertie's Just Giving page.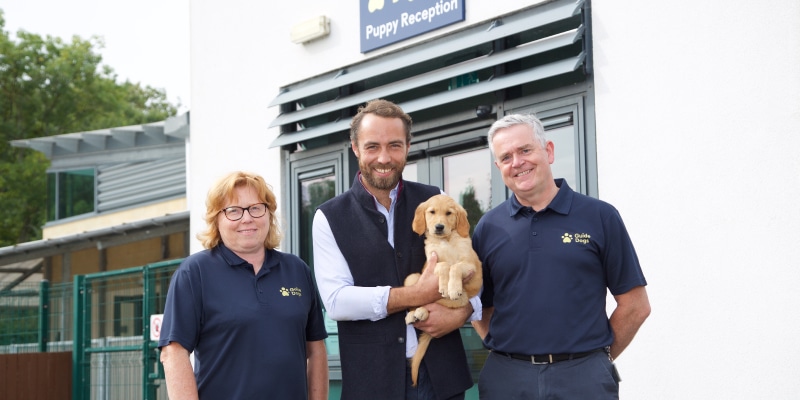 So, why 'Bertie', and what's next for him?
After the loss of Her Majesty Queen Elizabeth, I wanted to honour her legacy. Her Majesty dedicated her life to service, and in many ways, Mabel's chosen puppy would too. I decided to call him Bertie, as a heartfelt tribute to our late Queen's beloved father, Albert, known fondly by his family as Bertie.
When Bertie turned eight weeks old, we went to the National Guide Dog centre to introduce him to his new Guide Dog puppy raiser, Elizabeth. It was difficult to say goodbye, but I know he's ready to start his new journey in very capable hands. I'm so excited to follow his training and progress!
Bertie will begin his specialist training programme with lots of supervised socialisation. He will gradually be exposed to everyday stimuli found in the home, including washing machines, vacuum cleaners and doorbells. As he gets older, he will learn basic commands and progress to each level of guide dog training. If he's successful in his training, Bertie will be paired with his potential new companion.
Guide Dogs UK will work closely with Bertie and his new companion to work on his training and their relationship. This can include guide practice for certain routes and areas, and training at home so that Bertie can help his companion with day-to-day tasks. It takes around twelve months for a new partnership to be completely established. Guide Dogs will continue to support the duo for life.
Click here to visit Bertie's Just Giving page.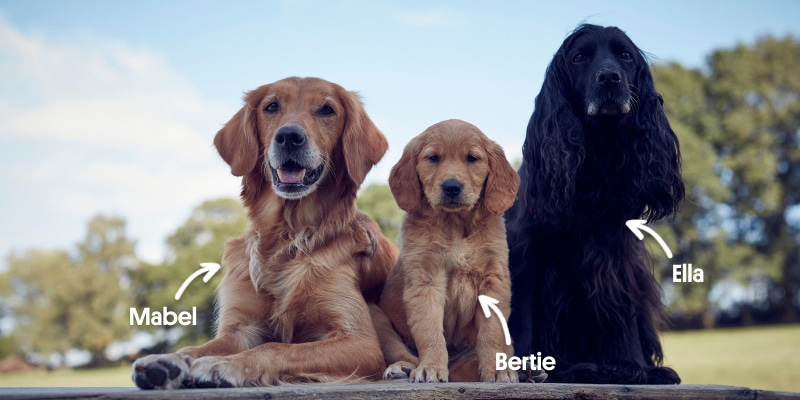 How you can help Bertie
The cost to support a guide dog like Bertie, from birth to retirement, is approximately £60,000! Guide Dogs UK rely heavily on donations from the public in order to operate. Every single donation makes a huge difference to the independence and life of a blind person.
When I donated Bertie to Guide Dogs, I also pledged to raise the full £60,000 needed to support his journey, training and retirement. If you're reading this blog and you're inspired by Bertie's story, please consider donating to this fantastic cause. No matter how big or small, every donation will have an incredible impact on Bertie's training. With your help, one day he could qualify as a certified Guide Dog!
Here are some examples of what your donation could help fund:
£8 could support Bertie and his future partnership for one day.
£16 could buy him a puppy coat to help keep him warm during winter training.
£26 could buy Bertie his white harness, for when he qualifies as a certified Guide Dog.
£125 could buy a starter kit for Bertie's future owner, containing everything they need to start a new, independent life with him by their side.
£717 could pay for a sighted guide partnership for seven months. This will help Bertie's companion to build more confidence, ready for their future routes as a pair. It also includes training with family and friends, so they can take their loved one and Bertie out safely.
Bertie's journey will be rewarding, and donations from amazing people like you will help support a fantastic charity!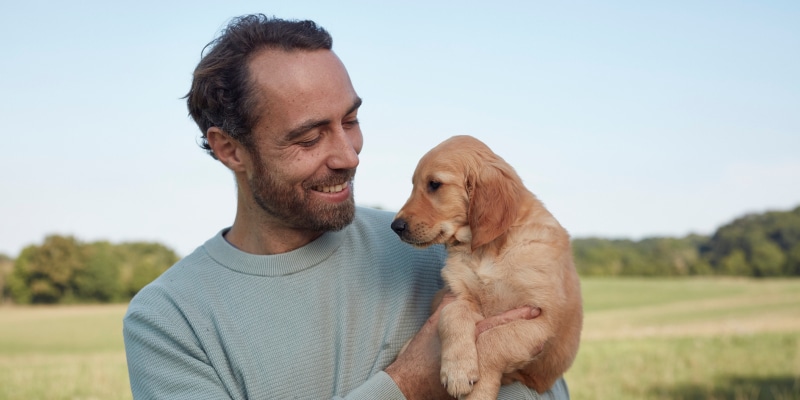 Heroes don't wear capes, they wear collars.
Firstly, I wanted to say a huge thank you for taking the time to read this blog and donating to this incredible cause. It's lovely to know that there are many others who share the same passion for supporting the work of charities like Guide Dogs.
If you would like to donate to Bertie's journey, then follow this link to his Just Giving page – every donation is hugely appreciated! From there, you'll also be able to track Bertie's progress with live updates, to see how your money will help to change the life of a person living with sight loss.
If you're able to donate to this amazing cause, or even spread the word, then I'd like to say a huge thank you from the bottom of my heart! Your support and generosity will always be remembered. And as always, if you'd like to discuss anything mentioned in this blog, please feel free to reach out to me at james@ella.co.
James & Ella – and of course Bertie! x