A guide for ensuring a safe and fun holiday with your dog
I love travelling with my dogs and making new memories with them in exciting places. More dog owners are thinking about dog friendly holiday destinations as a wonderful way to bond with their pets. You no longer need to leave your dog behind! Travelling with them is a great way to enjoy a change of scenery with your four-legged friend.
There is a lot to consider when going away with your dog. You need to ensure you have everything you need for your dog; wherever you are, whatever the weather! Here are my top tips on how to leave the pet sitters behind and prepare for a holiday with your dog.
Where to stay
There's an array of places you can stay with your dog, such as campsites, campervans, hotels or self-catering holiday cottages. Consider your dog's preferences when looking at accommodation. How would they deal with new noises and the change of location? Would they prefer a quiet cottage, or a campsite full of new smells and friends?
Whenever you're booking dog friendly accommodation, it's important to understand if they simply allow dogs, or if they enthusiastically welcome them. If you're worried about how your dog will be received, I would advise you to check any reviews from other dog parents.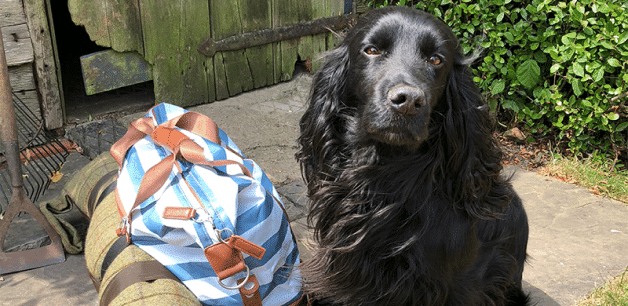 Planning ahead
Being prepared and researching before you go will give you more time to enjoy your holiday!
It's important to check for local veterinary clinics within the areas you're travelling to. Don't forget to save vet contact details in your phone, in case of emergencies.
I always check to see how far we are from the closest dog friendly beach or park. This is especially important if your accommodation doesn't have an enclosed garden space. Most beaches have particular times or seasons when they allow dogs to enjoy the beach with you. It's good to check this, to avoid disappointment.
Train your dog on calming techniques before you head off. Being able to sit, stay and settle are good to brush up on.
It's worth checking guidelines when travelling overseas, such as additional vaccinations and pet passports.
What should I take on holiday with my dog?
Ensure you prepare the correct quantities of food and dog treats needed for your dog during their stay. Imagine turning up for your staycation and not bringing enough food with you! Bring enough supplies so you don't have to change diets halfway through your holiday.
Different types of dog food such as dry, homecooked, frozen and freeze-dried raw food will have varied storage requirements, so consider the facilities at your accommodation. Feeding freeze-dried raw food has made it incredibly easy to bring with us on holiday, since it doesn't require refrigeration or prepping.
Beyond food, there are a number of dog holiday essentials that you should consider.
I always take a first aid kit for my dogs when going on holiday. My first aid kit includes a tick extraction tool, gauze, tweezers and alcohol wipes, among other useful tools.
I would advise bringing a crate with you, especially if your dog is used to sleeping in their crate at home.
Having spare towels or blankets are great things to pack too, especially if your dog loves to swim!
Bringing enrichment toys, treats or chews can help to keep your dog occupied and ease stress in a new environment.
Other essentials like plenty of poo bags, a water bottle and food bowls.
Remember to check the weather in advance. Your dog may need a coat for the rain, warm layers for cold weather, or cooling packs for any high temperatures.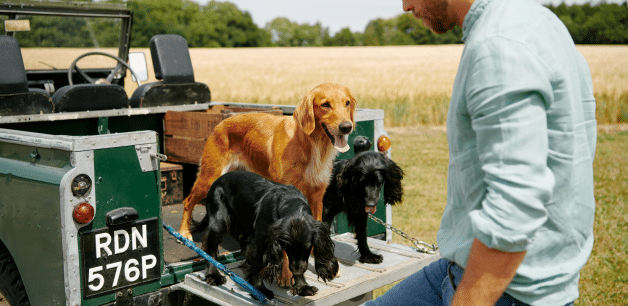 On the road
Travelling either by car, train or otherwise, could be a new experience for your dog altogether. It is imperative that your dog is safely secured if travelling by car. This should be via a car seat, safety harness or a crate secured in your boot (provided it has air ventilation).
Some dogs suffer from motion sickness or general anxiety when travelling. If your dog experiences travel sickness, visit the vet beforehand for advice. Your vet might suggest anti-nausea medications or herbal remedies.
Signs of anxiety exhibited by your dog during travel may include: excessive panting, yawning, or drooling; drooling is also a sign of nausea. There are a few steps I take to help reduce my dogs' anxieties during travelling.
Let your dog eat and digest their breakfast a couple of hours before travelling. This can help reduce pet travel sickness. I would also suggest limiting their food consumption while on the road.


If it's a lengthy journey, make a few stops where possible to allow your dog to have a toilet break, stretch and a drink. Check the journey in advance so you can figure out the best services to stop. Some have dog specific areas or larger grass areas, perfect for a quick run around.


Crack a window open to allow fresh air in. It's also handy to elevate your dog, enabling them to see out of the window. This may help if they're feeling nauseous.
Something I also do with my dogs is play soothing music. Believe it or not, music can have a comforting effect on dogs as well as humans!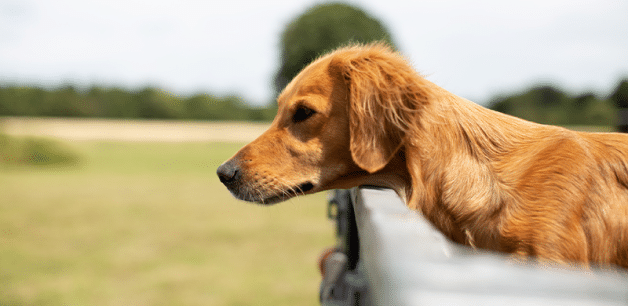 Comforting your dog
A change of scenery can be overwhelming for your dog, and it's normal for your dog to feel unsettled. This is more common during the evening, since they are used to going to bed in familiar surroundings.
I help my dogs by bringing along their favourite toys, bed, and blanket. The homely scents reassure them and make them feel comfortable. In case of separation anxiety, position your dog's crate or bed close to your bedroom so they can hear you.
I find that my dogs are better able to sleep in a new environment when they've had a long, mentally stimulating day. A tired dog is quicker to settle! Try to help rid your dog of any excess energy through physical and mental stimulation. Puzzle toys, snuffle mats and other interactive toys can help with this.
Typically, dogs adapt well when they're with their familiar humans and they'll love the chance to explore new places with you.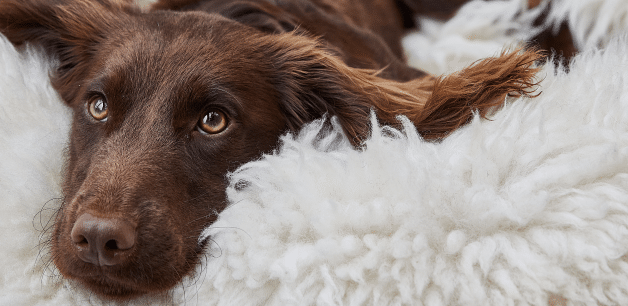 Enjoying your pet friendly holiday
The key is to make your holiday enjoyable for both you and your dog. Always consider potential situations where your dog may require urgent medical attention, even if you think this is unlikely to happen. By following these tips, you'll be sure to have a safe and wonderful trip with your dog by your side!