THE NEW FACE OF RAW…
Raw feeding. I often think this term is similar to Marmite; you either love it or hate it. However, it's arguably the most natural, nutritious and species-specific diet that you could feed your dog. I find that those who dislike raw feeding, often feel that way because of the inconvenience, messiness, lack of freezer space, bacteria, bad smell and unappealing look… The list goes on!
What if I told you that you could feed your dog a high quality, nutritious and healthy raw diet, without any of the cons listed above? This is what I set out to achieve when I got frustrated with the inconveniences that can come with feeding a frozen raw diet to my dogs. And I was tired of only seeing unhealthy, processed foods offering the convenience I needed. So, I gathered a team of industry experts and nutritionists. Together we developed our hero, problem-solving diet: James & Ella's freeze-dried raw dog food.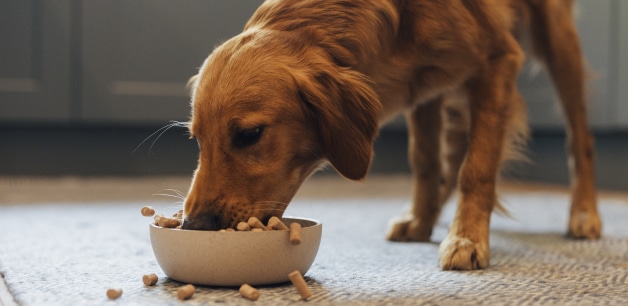 WHAT IS FREEZE-DRYING?
Freeze-drying is a popular technique in the food industry. It's how the instant coffee and dried fruit in your kitchen cupboard are made, and it's how we guarantee our freeze-dried food remains 100% raw, with all of the nutrients retained.
You might be wondering how it's possible to produce raw food that doesn't require fridge or freezer space. Well, it is possible, and the magic lies with how it's made:
Our fresh, natural ingredients are gently blended together with a little water, before being moulded into small, bite sized nuggets.
These nuggets are quick-frozen, which locks in all of the natural goodness.
The frozen nuggets are placed into a powerful vacuum chamber. The vacuum dries the food by rapidly evaporating all of the moisture. This process doesn't involve heat, so the food remains 100% microbiologically raw. What's left are small, nutritionally dense and delicious freeze-dried raw nuggets.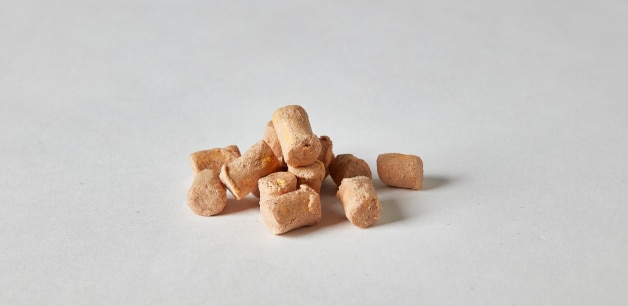 WHAT ARE THE BENEFITS OF FREEZE-DRIED RAW FOOD?  
You might already be aware of the benefits that come with feeding a raw diet. The positive changes seen in dogs who are new to raw are often pretty incredible! 
Here are some of the benefits of feeding a raw diet to your dog:
Within days…
Better appetite 
Increased energy levels
Smaller, firmer poos
Less wind 
Within weeks…
Healthier, better hydrated skin
Glossier, thicker coat
Improved digestion 
Less scratching
Better breath and teeth
Reduced tear stains and brighter eyes
Within months…
Stable, less fluctuating weight
Consistent toilet habits
Healthy anal glands
No eye or ear infections 
Better immunity 
James & Ella's freeze-dried is biologically appropriate raw food for you dog. It contains nothing but natural ingredients, so you can be sure your dog is benefitting from a nutritionally unique, wholesome diet. The food also has a higher calorie-density, which means less is needed to be fed compared to a standard raw diet or most dry dog foods. To put this into perspective, 100g of James & Ella's Freeze-dried raw food is the equivalent to 300g of fresh raw food! James & Ella's freeze-dried raw food is very gentle on your dog's tummy too, making it perfect for those with digestive problems. 
The unique freeze-drying process ensures that the food requires no cold storage whatsoever. You can simply decant the food into our free, resealable and reusable storage bags, and keep it in a cool, dry place. Freeze-dried raw food can keep for years unopened, which is why it comes in separate one kilogram bags. Once opened, we recommend you use it within 1-2 months.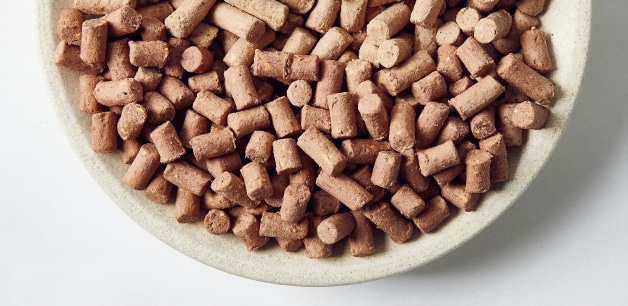 Ready to upgrade your dog's diet?
I hope this blog has offered some useful information about how freeze-dried raw dog food is made, and more importantly, how nutrition plays a huge role in your dog's overall well being. I understand the struggles and inconveniences that come with feeding a fresh raw diet. That's why I set out to create a food that's not only 100% raw and nutritionally balanced, but is also completely mess and stress-free! 
Don't forget, it's important to make sure that you research the best food for your dog. Every dog is different, and the requirements for one can be different to another's. If you need any more advice, or if you have any questions about James & Ella's freeze-dried raw food, you can reach out to me at james@ella.co 
James & Ella x