It's Christmas Thyme!
This time of year gives us the perfect excuse to come together, celebrate, and relax to that last straining hole on your belt. While there are plenty of tasty temptations on offer for us, we need to be wary of some types of food that our pets could come across.
Here is my guide, detailing the festive foods and drinks you should take extra caution with around your pets this Christmas. An emergency vet trip on Christmas day is the last thing you need!

Cheeses is the reason for the season: starters
It can be easy to forget about festive starters, left unattended on plates and low side tables, especially during the bustle of a Christmas afternoon. It's common for snack-like bites to be available as starters, in order to make sure everyone has room for the roast dinner that is to come.
However, if there are dogs present in the household, it's easy for them to snaffle any snacks which have been left out for people to graze on. Here are some common Christmas starters which could pose a risk to your dog if they get their paws on them!
Avocado: You may have heard that avocados are toxic to dogs. If a dog ingests all or even part of an avocado, it is likely that they will suffer from persin poisoning. Persin is the toxin present in avocados – with the pit and skin containing the largest amounts. Symptoms include vomiting, diarrhoea and abdominal pain, which is often determined when a dog puts itself into a 'praying' position. If your Christmas meal plan contains avocado, make sure to keep the rubbish bin closed and dog-proof. Especially if disposing of avocado pits and skin.
Figs: Are you contemplating a delicious cheeseboard this Christmas? Perhaps accompanied by chutneys, jams, and figs? Figs aren't technically poisonous to dogs, but they should still be kept out of reach of any sniffing noses. Figs contain ficin, which can be an irritant to some dogs. Their high fibre content can also cause diarrhoea, which is not what you want to be cleaning up on Christmas day!
Macadamia nuts: Though they're a staple human snack during the Christmas season, it must be warned that macadamia nuts are not for canine consumption! If ingested, these little nuts can cause tremors, lethargy, a high temperature and stiffness.The symptoms can be much worse in smaller dogs and puppies, so it is essential to keep nuts out of reach of dogs at all times – especially naughty dogs like Inka, who will eat anything she can get her paws on!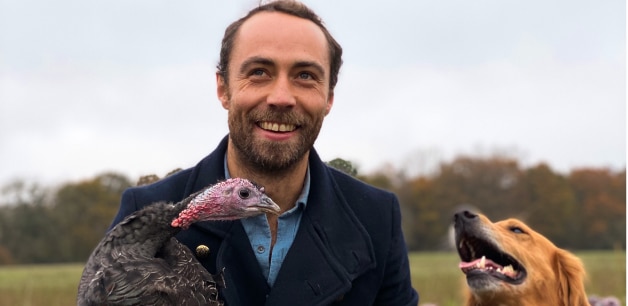 So be good for goodness steak: the main course
The course everyone waits for, the roast dinner! Whether you have opted for ham, chicken or turkey – with steamy vegetables, scrummy yorkshire puds, cranberry sauce and lashings of gravy, this meal truly is worth the wait!
Although this iconic meal is delicious for us, there are parts of this dish that dogs should be kept away from, no matter how much they beg.
Stuffing: You might not think it at first, but stuffing can be toxic to dogs due to the onion content. Foods from the onion family should never be eaten by dogs; cooked or raw. They can cause vomiting, diarrhoea and eventually anaemia. Just one medium-sized onion would be enough to cause dangerous toxicity levels in a 20kg dog.
Gravy: Gravy tends to contain high levels of salt, which could lead to sodium ion poisoning in dogs. Symptoms of this can include vomiting, diarrhoea, depression and seizures, and would require emergency veterinary attention. If gravy is spilled on the floor, it should be mopped up quickly if there are any dogs around snooping for dropped food! A 5kg dog would only need to consume approximately 20g of salt to reach dangerous salt poisoning levels.
Cooked bones: Leftover bones from your roast can pose a real danger to dogs. They can easily splinter in the digestive tract, causing serious internal injuries. If you would like to treat your dog this Christmas to a tasty bone, opt to feed them a raw meaty bone to gnaw on. If you are able to source one from a local, organic butcher – even better!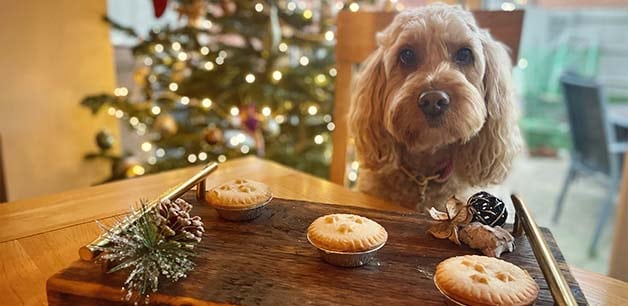 'Tis the season to be jelly: sweets and treats
Christmas is the perfect time of year for those with a sweet tooth! But as you probably know, most desserts should be kept away from dogs. This is especially important during the Christmas season, as festive treats contain some particularly dangerous ingredients for dogs.
Raisins and sultanas: In the UK, traditional seasonal desserts include Christmas cake, plum pudding and mince pies. However, these desserts must be kept out of reach from dogs, due to the toxicity of raisins, sultanas and alcohol. Raisins and sultanas are extremely poisonous to dogs, and can cause kidney failure if ingested even in small amounts. Only a few raisins or sultanas per kg of body weight can cause dangerous toxicity levels in dogs! It's important to seek urgent veterinary attention if you suspect raisin poisoning in your dog. I definitely learnt this the hard way during Christmas Eve 2018, when Mabel found the Christmas cake that had been soaking in rum for six weeks! That was a fun trip to the vets…
Chocolate: Chocolate is plentiful during the Christmas period, but it must be kept away from pesky paws! Chocolate (especially dark) contains a toxic chemical called theobromine. It can cause vomiting, hyperactivity and seizures. Anything containing chocolate should not be easily accessible to dogs, such as in wrapped gifts under the Christmas tree!
Artificial sweetener: Several festive treats include the artificial sweetener, xylitol, which is extremely toxic to dogs. Even small amounts can cause symptoms such as hypoglycemia (low blood sugar), vomiting and liver failure. Common xylitol-containing foods can include pudding cups, ice cream, fat-free greek yoghurt and a common dog favourite, peanut butter. My dogs love peanut butter, but I make sure to only treat them with dog-friendly peanut butter, to avoid xylitol!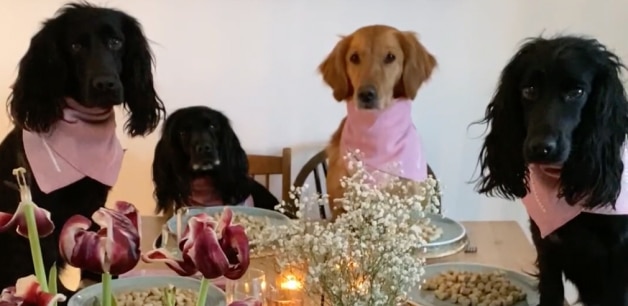 Have yourself a bloody mary Christmas: the beverages
Social festivities tend to come hand in hand with drinking, whether alcoholic or not. It can be easy to leave drinks unattended during Christmas gatherings. Extra care should be taken to avoid dogs gaining access to festive drinks, which could cause them harm.
Alcohol: It goes without saying that alcohol is toxic to dogs, but do you know which signs to look for in your dog which could indicate alcohol poisoning? Ethanol toxicosis can produce symptoms such as vomiting, weakness, seizures, depression and lethargy. Most dogs will start to show symptoms within an hour of ingesting alcohol. It is therefore crucial that they are taken to a vet if you suspect they have lapped up a few mouthfuls of your Christmas cocktail!
Caffeinated drinks: We know how exhausting the festive period can be! Sometimes all we want to do is sit back with a hot tea or coffee and relax. Be careful not to leave your hot drink unattended if your dog is around. Caffeine is toxic to dogs, and can cause vomiting, diarrhoea, tremors, excessive thirst and urination. It would take approximately four teaspoons of instant coffee to be fatal for a 2-3kg dog or puppy, but it's best to keep caffeinated drinks out of reach of all dogs.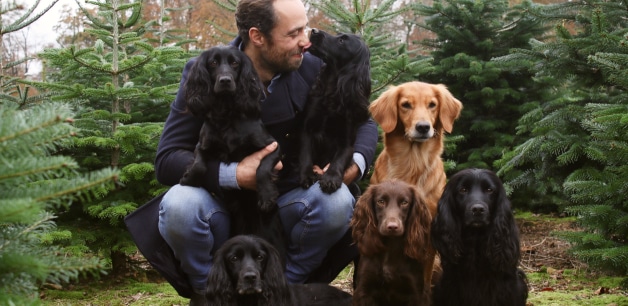 The final sleigh
Hopefully this blog has been helpful in listing some of the common foods that your dog should avoid this Christmas. It's important to note that for many of these foods, smaller breeds and puppies are at a higher risk due to their weight and size. Whereas larger dogs are able to metabolise toxins in larger volumes.
That said, the severity of the side effects depends on the toxin consumed, the size of your dog, and how much has been consumed. In the event of your dog ingesting anything toxic, contact your vet immediately.
If you feel like treating your dog this Christmas, my new Limited Edition turkey treats are the perfect healthy snack this season. With added cranberry for extra festive flavour and antioxidants!
I wish you and your dogs a very Merry Christmas and a happy new year!
James & Ella x