General
In order to avoid over or under feeding, we recommend to weigh out your dog's meals by using some accurate kitchen scales. However, if you're going on holiday or in a rush, the measuring mug is a handy tool to use if you're unable to weigh out the food. A full, level mug holds 80g of Freeze-dried raw, and 250g of Cold-pressed food.
Moving house? Going on holiday? You can update your delivery address by either logging into your James & Ella account, clicking 'address details', and updating your billing and/or delivery address.
Alternatively you can get in touch with our friendly team who will be more than happy to help.
You can easily update your payment details by logging into your James & Ella account, clicking 'Payment methods', and adding your new card details.
Our storage bags are lined with a special temperature stable foil, which helps to stabilise the temperature of the food within the bag. It's also fitted with a strong press-seal, which when sealed, prevents air from entering the bag and making contact with the food.
Our measuring mug holds approximately 80g of Freeze-dried raw food, and 250g of Cold-pressed food (filled to the brim and levelled).
No, we recommend to wash the mug by hand in warm water with a little dish soap.
At James & Ella, we care about the planet and reducing our ecological pawprint 🌎
That's why everything in your delivery is either reusable, recyclable or biodegradable.
The food itself arrives in recyclable bags, alongside a reusable storage bag and measuring cup. All boxed in a recyclable box.
Yes, our storage bags can be used to store both of our food products.
Yes, if you require a replacement storage bag, please contact us and we'll ensure to add one in your next subscription box.
Our in-house nutritionist Lauren will be in touch about halfway through your trial period. This is a great opportunity to chat about how your dog is getting on, and if you have any questions or queries.
We then time the delivery of your first full-sized bag (& free measuring mug) to arrive with you before you run out, but don't worry! We'll send you  reminder a few days before your delivery so you have time to delay, pause or cancel.
Our free measuring mugs are sent after your trial, with your first full subscription order.
If you've not received yours, please get in touch 😄
If you're not subscribed, you can also purchase our mugs for £9.99 on our website.
All of our products are made in the UK.
We manufacture across two sites, one in Yorkshire and the other in Norfolk. Norfolk being where our freeze-dried food is made, and Yorkshire our cold pressed.
All of our ingredients are ethically and responsibly sourced from the UK where possible. Occasionally, we source our chicken from the Netherlands if absolutely necessary.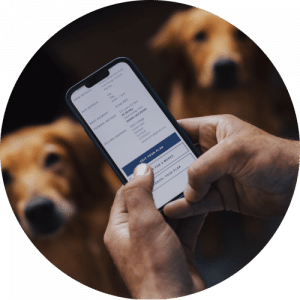 Fill in your dog's name, age and weight and we'll create a perfectly portioned plan.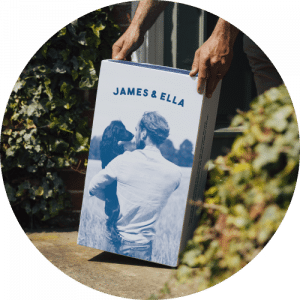 We'll deliver your dog's delicious food on a schedule that works for you. Subscriptions include 20% off every order, free gifts and free delivery!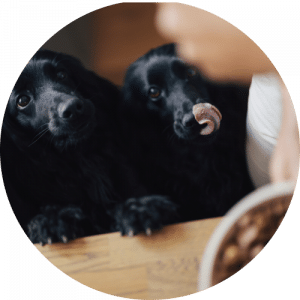 Enjoy your easy-to-manage monthly plan. Change, pause or cancel anytime, no commitment!
Join The Pack With 20% Off Today
My pack & I want to share the love. Tail-wagging guaranteed.